Careers
Each day, patients come to Winneshiek Medical Center with a wide range of medical needs – from a routine test to prompt attention to a life-threatening emergency.
Our patients frequently describe the difference made by Winneshiek Medical Center – the comfort in receiving care close to home and the compassion and professionalism with which the care is delivered.
Whether you are early in your career or have years of experience, consider Winneshiek Medical Center. From caring for patients to meeting the needs of our diverse staff and community, Winneshiek Medical Center offers a full range of career opportunities.
Make the call to (563) 382-2911 to find out more about Winneshiek Medical Center.
"I enjoy working at Winneshiek Medical Center because of the people. I have built friendships here that will last a lifetime."
Calsey, Administrative Assistant – Administration
Open Positions
Winneshiek Medical Center is a growing rural healthcare center offering a positive and progressive working environment as well as competitive salary and benefits. We have a variety of open positions in all areas of health care.
Ambulance Transfer Driver
Clinic Assistant
Clinical Coordinator – Home Health and Hospice
CRNA (PRN)
Director of Information Technology
Environmental Services Technician
Home Health Aide
Hyperbaric (HBO) Technician
Lab Assistant
Lab Assistant (PRN)
Massage Therapist
Paramedic/EMT
Patient Care Technician & Unit Secretary – Med/Surg
Radiologic Technologist I (PRN)
Registration Representative – ER (PRN)
Respiratory Care Technician
RN – Cardiac Rehab (PRN)
RN – ER
RN – Med/Surg
RN – OB
Getting to know our patients and their families on a personal level is incredibly rewarding.

Emily, Home Health and Hospice Aide
Benefits
Winneshiek Medical Center realizes employees are our most valuable resource. A comprehensive benefit program is offered to eligible employees and their dependents. This benefits program is an important part of the total compensation package.
We offer:
Competitive wages and benefits
Paid Time Off (PTO)
Health Insurance
Dental Insurance
Life Insurance
IPERS
Short and Long Term Disability
Continuing education opportunities
Flexible scheduling
Cafeteria discounts
Free access to the workout gym
And much more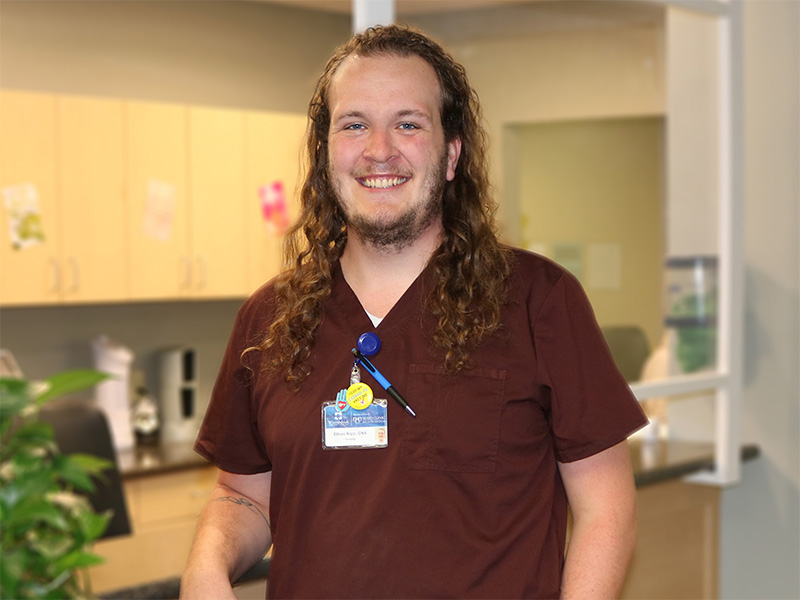 "I like being directly involved in primary care, the relationships it allows me to create, and the diverse demographic I am able to work with."
Ethan, Health Unit Coordinator – Clinic
Physician Careers
Physician services at Winneshiek Medical Center are provided by Mayo Clinic Health System through a professional services agreement.
Orthopedic Surgeon
Adult Outpatient Psychiatry
General Surgeon
OB/GYN
Community Urologist
Psychologist
Students
Winneshiek Medical Center offers a welcoming environment for students.
Our goal is to provide students interested in healthcare careers the opportunity to learn about rural healthcare in the hospital or clinic setting while shadowing or working under the supervision of our staff. Opportunities are available for job shadowing, unpaid internships, and clinical rotations.
All students participating in one of these programs must first complete an orientation to our facility. Orientation covers confidentiality, infection control, institutional policies, HIPAA, safety in our facility, and other important topics.
Aspects of the student experience are coordinated through the Education Department. Please contact the Education Department for availability and details regarding upcoming opportunities.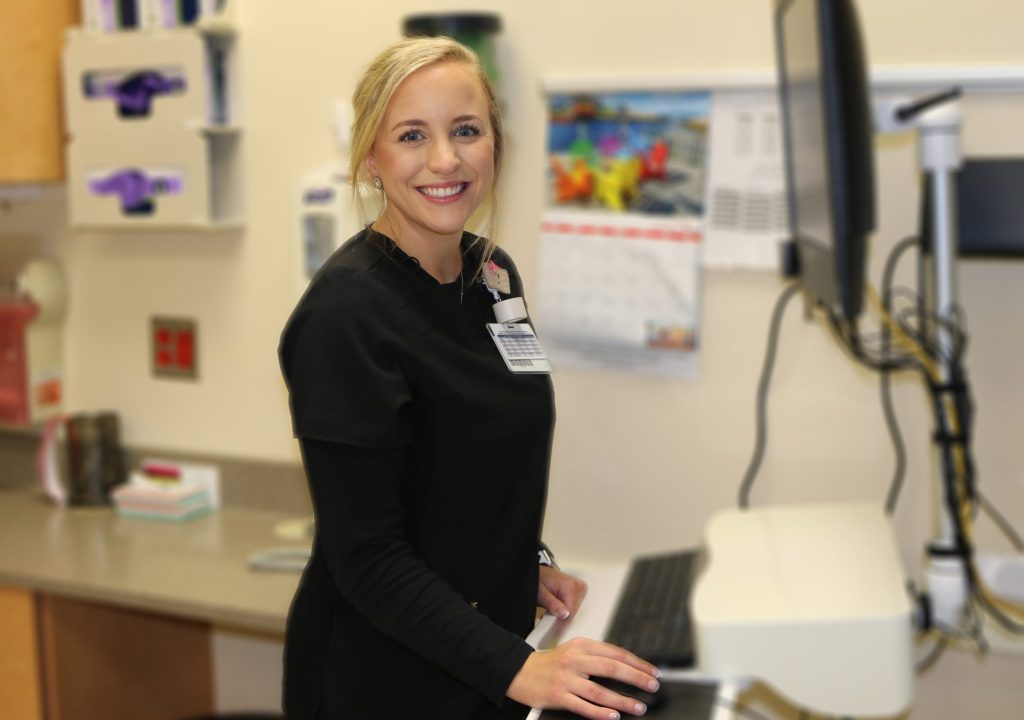 "I love the flow of being an ER nurse. I am constantly learning and being hands-on."
Gracie, RN – Emergency Department
Our Community
Winneshiek Medical Center is located in Decorah, Iowa, a community in scenic northeast Iowa. Nestled among the limestone bluffs of the Upper Iowa River, Decorah is home to approximately 8,000 residents and Luther College, a private liberal arts school. Decorah is teeming with life. Due to a commitment to the arts, a dedication to sustainability, and a continued pursuit of community wellness, Decorah offers a quality of life rarely found in this day and age. First-rate schools provide quality education for your children and outside opportunities – from athletics to story time to community gardening – help enrich them beyond the classroom.
Learn more about our community: Visit Decorah
"I joined Winneshiek Medical Center and Mayo Clinic Health System because of their strong reputation and commitment to continually grow and learn with the evolving world we live in. With my wife and I both growing up in Decorah we are well aware of how special the area is. From education and outdoor recreation to the strong sense of community, we look forward to the opportunity to experience this area with little ones of our own now."

Eric Svestka, M.D.