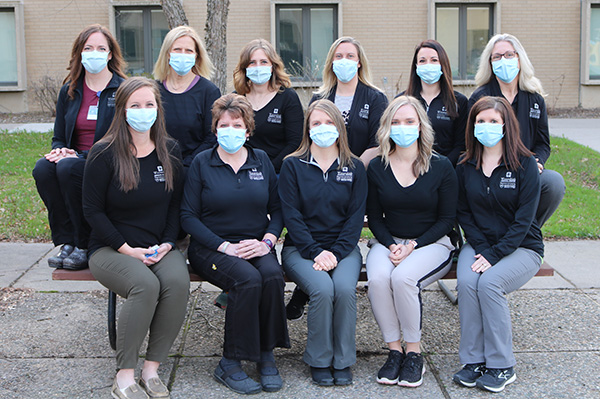 In 1996, Winneshiek Medical Center began a new service to our community by hiring Pat Carlson, an occupational therapist. Within six months, Pat was in need of an additional therapist to meet patient demand and needs, and the field quickly grew. 25 years later, Winneshiek Medical Center employs eight occupational therapists and three certified occupational therapy assistants. Lori Shindelar, OTR/L and Bridget White, COTA/L were both hired by WMC in the early years of the program, and offer answers to some questions about occupational therapy.
What is occupational therapy?
Bridget: Occupational therapy is a science-driven, evidence-based profession that enables people of all ages to live life to its fullest. OT's focus on connecting with patient's to build relationships of trust to meet their individualized goals to live more fulfilled lives following injury, illness or disability.
Lori: Occupational therapy helps individuals adapt their lives, develop skills, adjust home, school, or work environments, and build health-promoting habits and routines. We use every day, meaningful activities as the means to enable people to thrive. Our goal is for patients to move beyond their limitations to live life to its fullest.
Do occupational therapists specialize within their field?
Lori: Yes! Winneshiek Medical Center leadership has supported our professional growth over the years, and occupational therapists at WMC are highly specialized. We offer specialties locally that often aren't available in larger communities. At WMC, we have Certified Hand Therapists and Lymphedema Therapists. We also specialize in Urinary Incontinence, Dementia Care, Neuro Rehabilitation, ASTYM and Pediatrics. In addition, our pediatric therapists have advanced training in Sensory Processing Disorder, Feeding difficulties, Social Thinking Skills, Self-Regulation and Handwriting.
How has the delivery of care changed over the years?
Lori: As our staff has gained additional certifications/specializations, we have expanded our service lines to include all ages from infants to the advanced aging population. We strive to assess the needs of our community and then to make a purposeful plan to meet those needs. Most recently, we have focused on obtaining our Direct Access license so that patients can see us without needing a physician referral. This allows us to address their needs in a more timely manner so they can begin their healing and recovery and get back to living their lives.
Bridget: We are now serving more patients in a variety of settings. We have expanded our OT services lines to include inpatient, outpatient (at WMC and outreach clinics in Ossian, Calmar and Spring Grove), home health, and long term care (Aase Haugen, Wellington Place, Ossian Senior Hospice and Barthell Eastern Star Home).
Lori: We are also looking forward to remodeling our entire Rehab Services department at WMC this summer to create additional space for therapy services. The plans will create dedicated space for physical therapy and sports medicine, occupational therapy, pediatric therapy, cardiac rehab and speech therapy. During the next few months, you may notice a change in the flow of processes in the Rehab department, but bear with us as we navigate through construction….it will be great when it is finished!
What are some final thoughts to share?
Bridget: Our OT team at WMC is one of the most compassionate and caring teams I know. We are always looking for ways to improve the lives of our patients. We know that sometimes it's just the little things that matter most.
Lori: We look forward to our team further expanding our OT services in the greater regional area, especially in the area of pediatrics, young adult mental health, upper extremity/head/neck lymphedema for cancer patients and orthopedic services.
Make an appointment
Appointments with occupational and physical therapists are conveniently available at the Winneshiek Medical Center Rehab Clinics in Decorah, Ossian, Calmar, and Spring Grove. You do not need a doctor's referral and occupational and physical therapy is covered by most insurance plans. Therapists will work with you to determine the best plan of care for your individual needs and goals. To make an appointment at any of the Winneshiek Medical Center Rehab Clinic locations, call 563-387-3031.