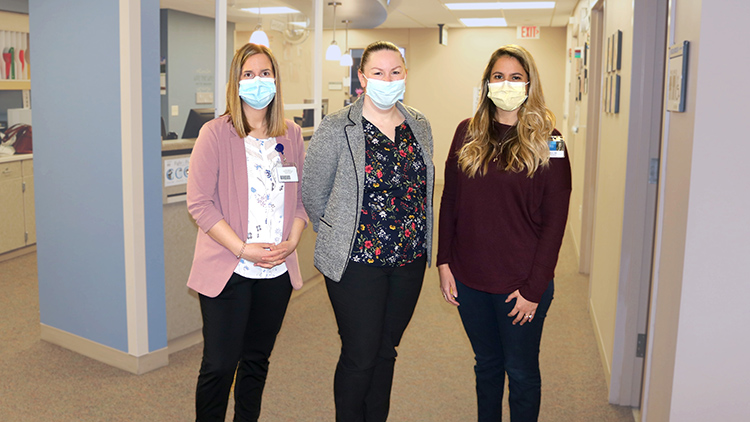 Long-time and well-respected Mayo Clinic Health System physician, James Ott, M.D., retired from his skin care practice at Winneshiek Medical Center in January of this year. To continue to meet the needs of patients requiring skin services, Laurie Tope, D.O. and Anna Mark, M.D., both MCHS family medicine physicians, have extended their practices to include skin specialty services. These physicians, along with the support of the Ear, Nose and Throat (ENT) specialty and general surgery, can treat most skin conditions locally at Winneshiek Medical Center.
Dr. Mark says, "Dr. Tope and I shadowed Dr. Ott prior to his retirement and have taken extended education at Mayo Clinic in the skin care specialty. I have enjoyed working more intently in the skin specialty this year, and look forward to helping patients needing these services in the future."
Additionally, WMC has welcomed Dayna Soukup, PA-C, to solely cover the skin care specialty in Decorah. Dayna received her undergraduate degree from Wartburg College and a Master of Science in Physician Assistant Studies from Des Moines University. Since 2016, she has provided care in the Urgent Care setting in Cedar Falls and Waterloo.
Dayna says, "I will be available to provide daily access to patients with new or chronic skin problems. By working with this team of physicians, and dermatologists from Mayo Clinic Health System when needed, we will provide our patients with skin care available locally. I am excited to join this community and medical center."
Skin services at WMC may include treatment for:
Acne
Eczema
Dermatitis
Rosacea
Dry or sensitive skin
Nail problems
Pigmentation disorders
Rashes
Warts
Psoriasis
Skin cancer screening, diagnosis and treatment
To make an appointment for skin services at Winneshiek Medical Center, call 563-382-2911.