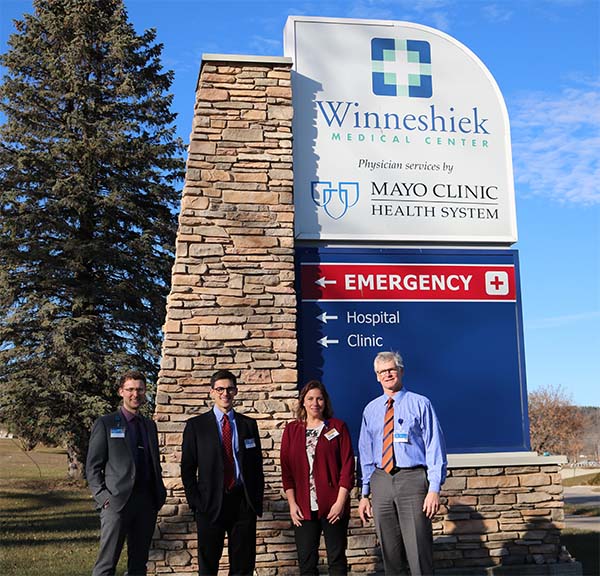 Winneshiek Medical Center is pleased to welcome Mayo Clinic Urologists Ross Avant, M.D. and Adam Miller, M.D., to the Decorah Clinic practice. Dr. Avant and Dr. Miller provide urology services in coordination with Ericka Moudry, PA-C, who serves full time at Winneshiek Medical Center. Drs. Avant and Miller succeed Brad Orvis, M.D., who is transitioning into retirement after providing full time specialty urology care to the region since 2001.
Urology at Winneshiek Medical Center provides expert care for male and female patients of all ages who suffer from problems of the urinary tract. The field of urology diagnoses and treats disorders of the male reproductive system as well, including prostate cancer diagnosis, treatment and support.
The urology program at Winneshiek Medical Center specializes in:
State-of-the-art laser prostate care
Laser surgery to fragment kidney stones
Vasectomy
Female incontinence
Vaginal prolapse
Cancer care: bladder, prostate, kidney, testis
Dr. Avant received his medical education from Louisiana State University Health Science Center School of Medicine in New Orleans, and completed his internship and residency at the Mayo School of Graduate Medical Education in Rochester. Dr. Miller received his training from Indiana University School of Medicine in Indianapolis, and also completed his internship and residency at the Mayo School of Graduate Medical Education in Rochester. Both physicians are members of the American Medical Association and America Urology Association.
At Winneshiek Medical Center, patients will work with the entire urology team to receive the care they need. For most procedures, the surgeons will operate locally at Winneshiek Medical Center. For procedures that require a higher level of technology (such as robotics), the surgery will be scheduled at Mayo Clinic in Rochester. In either scenario, Drs. Avant or Miller will follow the patient throughout their care.
Dr. Orvis says, "I am so pleased to have skilled and experienced Mayo Clinic urologists providing care to patients of our region. Having served the urology needs of our area for so many years, it gives me great comfort to transition the practice to such capable surgeons. They will see patients in Decorah and in Rochester, if needed, so it is the best of both worlds for our patients."
To make an appointment for urology services at Winneshiek Medical Center, call 563-382-2911.