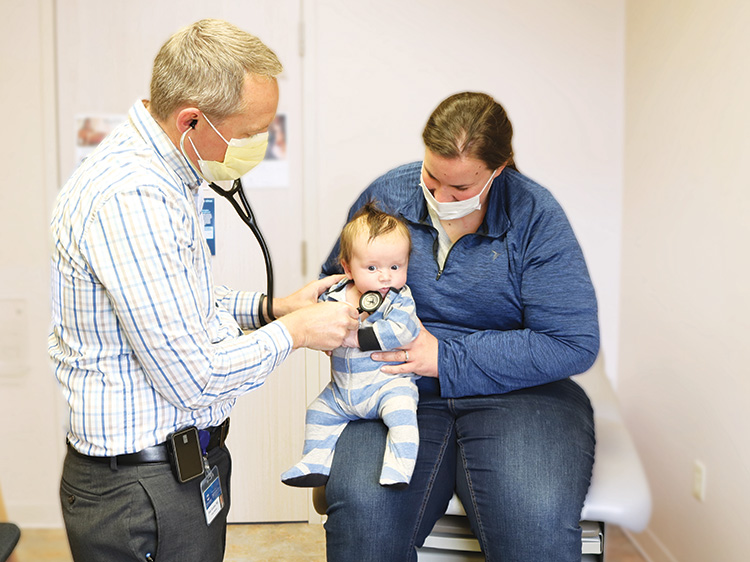 Meghan and Ryan Harrod from Cresco, IA welcomed their first born, Treyton, in 2019 at Winneshiek Medical Center with Andy Goodner, M.D., Mayo Clinic Health System family medicine and obstetrics physician. When they found out they were expecting again they knew they wanted to see Dr. Goodner. Meghan shares, "Dr. Goodner and the OB team were so accommodating when we delivered Treyton. They made sure I was as comfortable as possible, and provided great care."
On the evening of December 14, 2021, the Harrod's left home for an induction with their second child. When they had arrived at Winneshiek Medical Center it was evident the organization was preparing for the predicted wind storm about to impact the area the following morning. Meghan says, "Connie (Klimesh), obstetrics nurse at WMC, brought in flashlights to the labor room in case things got as bad as they had expected." As Meghan's labor progressed, so did the weather.
The OB team moved Meghan and Ryan to a tornado save room for safety precautions. Once Meghan was settled, the anesthetist came to provide her with an epidural. "I knew I wanted an epidural, but I was nervous. When I received my first epidural during my pervious delivery, my blood pressure had dropped slightly," says Meghan. "However, I explained the situation to the provider and was reassured with their familiarity of those types of situations. Prior to getting my epidural this time around, I was happy to have my nerves put at ease."
While things were progressing with Meghan's labor the nurses were doing their best to keep her distracted by offering baby name ideas. "One nurse even mentioned to me the name Gus because it was going to be "gusty" outside. It was fun to laugh and joke around with them," says Meghan. "To be honest, Ryan and I wouldn't have known the weather was bad if it wasn't for the overhead announcements happening because everyone's focus was on us and providing a safe delivery for Kal."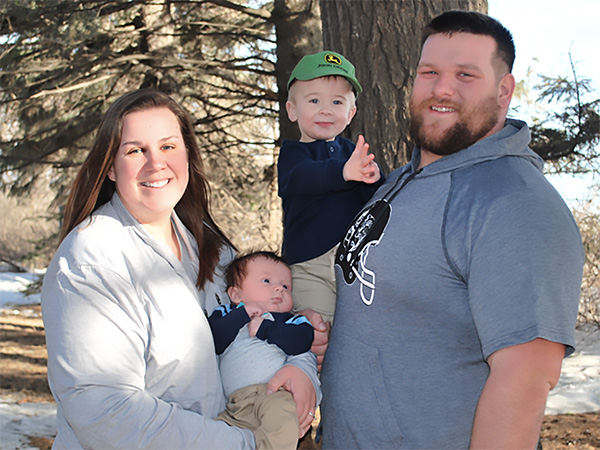 Meghan and Ryan Harrod with their sons Treyton and Kalvin. When they found out they were expecting their second child they knew they wanted to see Dr. Goodner.
Meghan and Ryan welcomed their second son, Kalvin into their family. Meghan shares, "soon after delivery Kalvin was placed on my chest, and just like that the power went out for about two minutes before the generators turned on." Following the delivery, the Harrod family remained in the labor room for some time for safety reasons due to the power outage. "It's our goal to provide a secure, safe and comfortable environment for mothers and babies before, during, and after delivery," shares Brianne Leikvold, RN, nursing director for obstetrics at Winneshiek Medical Center.
Once it was safe Meghan, Ryan, and baby Kal were transferred to their postpartum room, and provided a snack from the nutrition services team. "The kitchen didn't have power because of the storm, but they made sure to take care of us to the best of their ability," comments Meghan. "Once the power was restored throughout the facility the meals were satisfactory!"
"Dr. Goodner checked on Kal and I routinely to make sure the wind storm didn't cause added anxiety or nervousness to either of us. It's nice to have access to a rural hospital that cares so deeply for their patients," says Meghan.
"It's important to me that my patients feel comfortable and safe during their postpartum stay, shares Dr. Goodner. "Welcoming a newborn into the world brings on a whole new level of emotions, so connecting with my patients frequently to assess their needs has always been a top priority for me."
At Winneshiek Medical Center, birthing is special and personal. Our team of Mayo Clinic Health System physicians, plus one midwife, works alongside our specialized obstetric nurses to provide an unparalleled experience for families. Our providers deliver over 90 percent of their own prenatal patients, a reassuring statistic you may not find in larger facilities. To make an appointment for prenatal care at Winneshiek Medical Center call 563-382-2911.