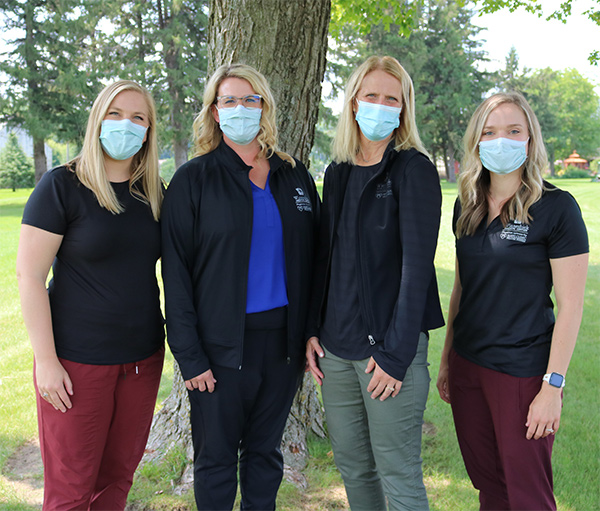 After a summer of construction, Winneshiek Medical Center is pleased to share that the Winneshiek Medical Center Cresco Rehab Clinic will be open for patients beginning Monday, August 30 at 117 N Elm Street, downtown Cresco. Therapy services will be available at the clinic Monday-Friday and appointments can be scheduled by calling 563-547-2284.
Miranda Hayek, director of Rehab Services at WMC, says, "Our therapy team is excited to begin seeing patients in the new clinic. They have put a great deal of energy and effort into creating a space that meets the needs of our patients locally while supporting the downtown Cresco economy." In addition to the new Cresco location, Winneshiek Medical Center has Rehab Clinics in Decorah, Ossian, Calmar and Spring Grove.
The WMC Cresco Rehab Clinic will be primary staffed with the same therapists the Cresco community knows and trusts, including: Physical Therapists Alex Engelken, DPT; Jamie Schneberger, DPT and Andy Rix, MPT, CSCS; Occupational Therapists Stacy Quam, OTR/L, CLT and Lori Shindelar, OTR/L, CLT; Athletic Trainer Chris Trytten, ATC, LAT; and Speech/Language Pathologist Kelli Zeimetz-Mehmert, MA, CCC-SLP. Specialties will include:
Physical Therapy
Occupational Therapy
Speech Therapy
Orthopedic Therapy
Sports Medicine
Hand Therapy
Athletic Training
Lymphedema Management
Pain Management
Work Injury Management/Ergonomics
Women's Health: Incontinence, Pelvic Pain, Prenatal and Postpartum Management: PT, OT
Pediatric Therapy: OT, PT, Speech
Open House
The community is invited to an open house on Saturday, August 28 from 9:00 – 11:00 am. A light breakfast will be served, and door prizes/drawings will be available. Therapists will be onsite to visit with guests and to provide tours of the new space.