New Patient Resources
Thank you for choosing WinnMed to partner with you in your health care. 
How to Find Us
WinnMed Hospital and Clinic Services – Decorah
Our address is 901 Montgomery Street, Decorah. When you arrive to Winneshiek Medical Center on the day of your appointment(s), please park in Parking Lot A and enter through the Main Entrance. Registration representatives will greet you and register you for your appointment(s). Staff and volunteers will direct you to your provider after you register.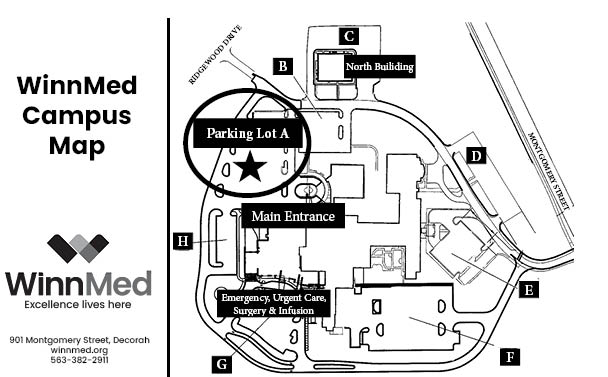 Mabel Clinic
The Mabel Clinic is located at 114 Main Street South, Mabel, Minnesota. When you arrive to the Mabel Clinic on the day of your appointment(s), please park on the street in front of the clinic. Handicap parking is available. Staff will greet you and register you for your appointment(s).
Ossian Clinic
The Ossian Clinic is located at 112 East Main Street, Ossian, Iowa. When you arrive to the Ossian Clinic on the day of your appointment(s), please park on the street in front of the clinic. Handicap parking is available. Staff will greet you and register you for your appointment(s).
We recommend that you select a primary care provider for your ongoing care. Your personal family health care provider allows for continuity of care and knows when to refer you for specialized medical services should the need arise.
Please make appointments as far in advance as possible and specify the nature of your problem so we can schedule an appropriate amount of time for the visit.
If you are unable to keep an appointment, please let us know as soon as possible so that the time can be given to another patient.
Patient service representatives are available Monday – Friday from
7 am – 5:30 pm to assist you in scheduling a clinic appointment.
On the day/time of your appointment, enter the building through the WMC Main Entrance, Door A1, on the North side of the campus. Please park in Parking Lot A. (Patients will receive specific instruction upon booking their appointment if the location is different than Door A1/Main Entrance.)
Inside the Main Entrance, please check in with our registration representatives who will verify/update your insurance and demographic information and direct you to your appointment location.
Please bring your current insurance card.
Please bring your current medications in the original bottles or containers.
Please be prepared to pay any co-pays if applicable, according to your personal insurance plan.
If your doctor recommends a follow-up appointment, we will help you schedule before you leave, or we will call you to schedule the appointment if it is more convenient for you.
MyChart
We understand that your time is valuable. MyChart makes time consuming tasks simple… a few clicks, and you're done.
MyChart at a Glance
See your medical records and results from your electronic device
Connect with your care team through our secure messaging system
Request an appointment with a WinnMed provider
Update your personal information at your convenience
Pay your medical bill
MyChart is a free service that gives you the flexibility to access your health information and other resources on your time and between visits to WinnMed. With this interactive online tool, you can take a more active role in your care with easy, secure access to your health information and online communication with WinnMed staff.
Medical Referrals
Patients who choose to go to Mayo Clinic for more specialized services will find a number of services in place to ensure a smooth transition to care in Rochester. The smooth transition to care is due in part to WinnMed's partnership with Mayo Clinic Health System.
Patients can opt to seek services at specialty care centers other than Mayo Clinic in Rochester. Your physician will help facilitate the referral to the health care center of your choice or where your insurance allows you to go. Follow-up care will be provided by your primary care doctor upon your return.
Patient Financial Responsibilities
It is your duty to contact your insurance company before receiving care:
Ask if your plan has requirements or restrictions.
Ask what your plan will and will not pay.
Know your insurance company's or employer's approval and pre-approval requirements.*
Know your coverage limits before your visit.
* Pre-certification (pre-approval) is not a promise of payment. It is your duty to pay for services your insurance authorized, but later did not cover.
Managed care plans, Health Maintenance Organizations (HMO), or Preferred Provider Options (PPO) benefits vary from plan to plan. Insurance companies may not pay or may reduce payment for care outside the plan's covered area. To avoid this, please contact your insurance company to determine plan requirements or restrictions for care outside of the network.
We contract with most, but not all commercial insurance companies. Please check with your insurance carrier or employer for coverage information.